After writing about observing Advent instead of fighting Santa, I promised to tell you a little bit about what our family does to celebrate Advent. It's actually very simple and I think the difficulty lies in having to say no to a lot of festivities in order to spend Advent waiting, reflecting, and anticipating.
What We Do:
We bring out our Nativity Scene. My sweet mother-in-law gave us this beautiful olive wood set for Christmas a couple of years ago and it is just perfect for little ones to play with! It's practically indestructible and each piece (other than Baby Jesus) is too big for an infant to choke on. Win! Usually I bring it out on the first day of Advent but this year I thought I would bring out one piece each day. Once they're all set up we can just wait until Christmas morning to put Baby Jesus in the manger.
Last year we started having a Jesse Tree. The Jesse Tree's ornaments tell the "big picture" story of God's redemption. Daniel and Benjamin painted some ornaments and we hung them up on a branch we brought inside. We didn't get a chance to make an ornament for each day, so I think we'll try to paint some more and if we run out of time we'll just color some ornaments and make more lasting ones next year. Keep it simple!
Advent candles are always a central part of the season for us. I've already told you about my very favorite Advent candles that Benjamin helps to make. We do Scripture readings as we light them. Sometimes we just do the readings on Sundays, sometimes we're more consistent and do them each night.
Benjamin and I also like to decorate the house with simple greenery. Last year we went to Home Depot or Lowe's Christmas Tree sales area, can't remember which, where they let you grab and take home Christmas tree branches they cut off of the trees. As much as you want! Free decor. Yes, please.
We usually cut down our tree in mid-December as a tradition with Daniel's family. Then we string lights on the tree but don't decorate with ornaments until Christmas Eve. The lights remind us that we're waiting for the Light of the World.
We have an Advent calendar of little storybooks telling the Christmas story that you can hang on the tree after you read them. Benjamin really loves reading these together and it's so hard for him to wait for the next day to read the next "chapter."
For my personal reflection, I like to read some of the selections in Watch for the Light. There are some wonderful and beautiful selections by folks like Thomas Merton and Dorothy Day and then some that aren't so hot, so I skip those. All-in-all, it's a lovely book.
We also have some special traditions on Dec. 6th (St. Nicholas Day) when our kids receive all their presents from us, and Dec. 13th (St. Lucy's Day) which is my daughter's name day.
What We Don't Do:
Listen to Christmas music.  I know! It's actually torturous to wait until Christmas to listen to my favorite Christmas songs. We console ourselves with Advent hymns like "O Come, O Come Emmanuel" and "Come, Though Long Expected Jesus." And we always listen to a lot of Handel's Messiah which I think is great Advent music. Sometimes I play Bach's Christmas Oratorio. It's not in English so I don't feel so much like I'm cheating. I know it sounds hard (and it is) but listening to Christmas music during Christmas is soooo exciting when you've waited all through Advent. Benjamin wants me to sing "Joy to the World" to him every night for weeks.
Go to Christmas parties. We just kind of skip 'em. I don't think that's what every family needs to do, but it helps us keep things simple and our schedule relaxed.
Decorate our tree (I explained above). But once it's Christmas (and sometimes Christmas Eve) we string popcorn and cranberries and Benjamin helps me put all the ornaments on. I get so sentimental about tree decorating!
Watch Christmas movies. Yes, like waiting for the Christmas music, it's so hard. But then we pull them out during the Christmas season and Benjamin can watch them over and over. And I usually cheat by watching movies that remind me of Christmas but aren't technically Christmas movies like Little Women. Can't help myself.
Make Christmas cookies. Yup, we wait til Christmas. We have a set of nativity cookie cutters and the little ones love it when it's time to bake and decorate.
For us, I think the key is just adding a little extra quiet to our days, trying to attend daily Mass more regularly, going to Adoration, keeping meals simple, and other disciplines for this "little Lent." The kids love the nativity scene and advent wreath and I think it gives the season some special traditions they look forward to. For me, the challenge is in NOT doing  a lot of the things I want to do.
This year I want our family to memorize the St. Andrew prayer:
Hail and blessed be the hour and moment in which the Son of God was born of the most pure Virgin Mary, at midnight, in Bethlehem, in piercing cold. In that hour, vouchsafe, O my God! to hear my prayer and grant my desires, through the merits of Our Saviour Jesus Christ, and of His Blessed Mother. Amen.
And something I really want to emphasize more in our Advent observance is giving. Making peanut butter bird feeders for the birds. Giving away clothes and toys to those who need them more than we do. Choosing a special charity to save up for by sacrificing eating out or other luxury expenses. Any brilliant ideas?
How do you observe Advent?
Remember to link up with us a week from today, Dec. 3rd, with our Little HolyDays: Redeeming Time with Feasts, Fasts, Holidays, and Everyday! Click the button to read all about it!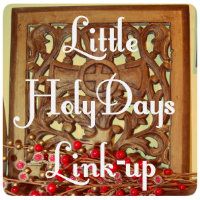 <a href="http://carrotsformichaelmas.com/2012/11/19/little-holydays-a-new-link-up/" title="Carrots for Michaelmas"> <img src="http://i1145.photobucket.com/albums/o515/Mollymakesdo/DSC_0740-1.jpg" width="200″ height="200″ alt="My Button" style="border:none;" /></a>