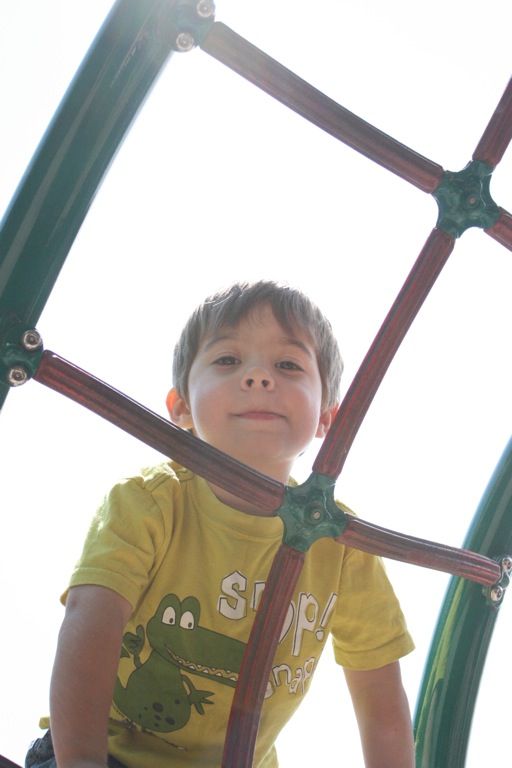 At 5am on Sunday morning, my husband woke up our 3-year-old son, Benjamin, and took him on a surprise adventure. They drove away from the light pollution of the city and found a place they could watch the Perseid meteor shower. After laying out a blanket and showing him where to look, my husband got to witness the delight on our son's face when he saw a shooting star for the first time. When they got home Benjamin was beaming and couldn't wait to tell me all about it. He explained that "shooting stars are called 'meteors' not 'meat-eaters' like dinosaurs and I saw TWO. They went like this 'WHOOOOSH!" He went on to tell me that he saw two planets, Jupiter and "Eunice." "Venus?" I asked. "Oh, yeah, Venus! That's right! And we saw a constellation: Orion! He has a belt made of three stars!"
Benjamin called it "an adventure." It was also homeschooling.
It's the start of a new school year and since I posted this great article and mentioned on FB that we're starting some unofficial preschool homeschooling for our 3-year-old son, Benjamin, I had some requests for a more in-depth explanation of my experience as a homeschooler and our vision for homeschooling our kids. I thought I'd start with the "why" and do some later posts on exactly what homeschooling will look like at our house.
I never attended a Montesorri or Parochial school but I tried everything else under the sun: private Christian school (Pre-K-2nd), homeschool (3rd-8th), private secular school (10th) and public school (9th, 11th, and 12th). I didn't hate conventional school. I was a straight A student.  So why are we homeschooling?  Well, we can't think of any good reason to send our kids to school! If you're interested in reading about modern education and its many problems, please read Anthony Esolen's amazing book: Ten Ways to Destroy the Imagination of Your Child. It is truly life-changing and expresses so much of what we believe about education.
As for the benefits of homeschooling, here are some of our reasons for embracing it for our children's education:
1. We don't think learning begins and ends in a classroom and we don't want our kids to believe that either.
2. We believe that every child is unique and will learn best with an education tailored to their learning style, strengths, and weaknesses.
3. We want our children to be challenged, engaged, and enchanted by learning. In essence, we want our kids to love learning instead of becoming skilled at the "grade game." (Daniel and I both were great at knowing what we needed to know for the test. We do great on tests. From experience, we know that's not the same thing as learning.)
4. Because there's no way our son could sit still in a classroom environment. If you've ever sat behind us at Mass, you will understand this. We want him to run wild and just be a little boy in addition to learning his ABCs, how to count, etc (which he already does).
5. We want learning to be naturally woven through our days. We don't want a 7hr block of time devoted to "school" that feels like "work" to our children.
6. We want to teach our children things they won't learn in traditional school: classical and biblical languages (Latin, Greek, and Hebrew), music, art history, the lives of the saints, etc. (You might be able to take some of those in high school but they weren't available at our high schools).
7.  We enjoy our kids and want our family to be together as much as possible.
8. We want to be the primary influence on our children's lives. I have lots of friends who are teachers. They are awesome. I have also had lots of teachers in my many years of different kinds of schooling: they were NOT all awesome.
9. We want the freedom to celebrate the liturgical year. The calendar we go by isn't the traditional school calendar. We will be celebrating the Feast of the Assumption tomorrow. And nobody has to skip school to do it!
10. We're not even remotely worried about "the socialization issue."  The idea that our kids won't be just like everybody else's kids is not a negative for us.
11. We don't want our kids to be bored because they are pigeon-holed into a certain "level."
12. We want the freedom to stay home, go to the library, visit a museum, etc. Whenever we want to.
13. We want our kids to have time to study musical instruments and participate in extracurriculars like dance, art, and sports without being stressed-out, overwhelmed, and exhausted (as a ballet teacher I see far too many pale faces and tired eyes after a long school day and it breaks my heart).
14. We don't want our children's imaginations ruined by the school system. As a voracious reader my whole life, nothing could destroy my love for literature. But my high school English teachers sure gave me a run for my money! Really, if anyone could have killed my passion for books it was those four women. In fact, in all of high school, I can only think of two really excellent teachers that I would want teaching my kids.
15. I'm not prepared to send my kids off to have so much time wasted every day. Because I spent so many years in traditional classrooms I know how much time is wasted. Between the discipline issues, teaching to standardized tests, and just watching movies in class, so many of my days were wasted. I'm not going to let that happen to my kids.
16. No one cares about our children's education as much as we do.