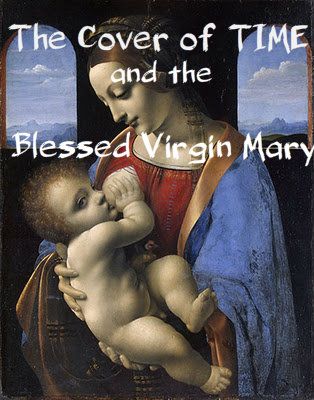 Ok, so I promised I wouldn't talk about sex for awhile after my two-part ramble on contraception, etc. But then I saw this TIME cover:
You guys know that I'm a huge supporter of breastfeeding in public. Breastfeeding is not a sexual act. Breasts are not merely sexual. Breastfeeding in public IS NOT immodest. So, why does this image look so sexual? Some might claim that nursing is an intimate act and therefore should be private, no need to plaster images of it everywhere. I disagree. I think breastfeeding should be in the public eye. It is intimate, but it doesn't mean that it should be tucked away in lonely corners. I think images of breastfeeding are so beautiful (maybe that's why I post pictures of nursing Lucy all over my blog). So, what's the problem with this image? It's not the fact that she's nursing and some breast is exposed (grow up, people!) and it's not the fact that the nursing child is three years old (the WHO recommends that ALL children are breastfed until they're at least 2, I'm all for extended breastfeeding). The problem is difficult to nail down but I think we can do it by comparing the image to images of another lady breastfeeding:
In this image, the Blessed Virgin is nursing Our Lord as a toddler. He's big, squirmy, and looking straight at the viewer (just like the child is gazing at the viewer on the magazine cover). And there's definitely a lot of breast showing. So what makes it different? The difference is in the Blessed Virgin's pose and face. She is looking lovingly at her precious son. She is cradling him with love. She is not detached from her child and striking a "modelesque" pose while looking provocatively at the viewer. She's not self-promoting. She's not putting on the sex appeal. She is immersed in this act of love for her little son.
Sadly, TIME took an act that is so beautiful and natural and has presented it as extreme, sensational, and sexual. I hate that. Breastfeeding (and extended breastfeeding) are none of those things. I know TIME wants to sell magazines, but that doesn't exonerate them from this incendiary journalism.
And the title is the icing on the cake: Are You Mom Enough? Again, the focus is completely on the mother, rather than the child. As if women who choose to practice AP and extended breastfeeding are doing it to prove that they're better moms than other mothers or to impress other people. I hope that's not the case for the woman who posed for the picture and I think she is being misrepresented. TIME is also misrepresenting all of us who practice AP and extended breastfeeding.  Mothers try their very best and agonize about what's best for their families when they make decisions about parenting styles. Most mothers aren't making any of those decisions because they have anything to prove.
What do you think? Am I overreacting?
EDIT: A reader noted that the mother on the cover was not trying to look sexy. I think this is probably true and I hope my post doesn't sound too critical of her. When I'm describing her modelesque pose and "provocative gaze" I am criticizing TIME and the way they are portraying this mother and child which is probably not at all the fault of the mother.