I grew up in the Bible belt. I heard a LOT about the Proverbs 31 Woman–the wife of noble character. I attended whole bible studies about this woman described in Proverbs that we should all model our lives after! She's busily working for her family and brings honor to her spouse.
And we have her to thank for that whole "charm is deceitful and beauty is vain but a woman who fears the Lord, she ain't playin" line from DC Talk. Before your time? C'mon, you remember these guys.
ANYHOW, upon further examination, you might notice that the Proverbs 31 woman isn't doing all of the hard work alone. No, sir! She has SERVANTS. She has a HOUSEHOLD STAFF like an heiress in a British costume drama. A mom friend from our homeschool co-op pointed this out last week and all the moms said amen!
I realized that I've got this modern Proverbs 31 woman in my head. And I'm beating myself up for not getting as much done as I think this imaginary woman is doing. And since the Holy Scriptures tell us she's dressed in fine linen and purple, I'm pretty sure I'm not looking as good as she is either. But, I also don't have any servants. Not ONE. Not even a kitchen maid! Or a lone footman!
But the more I reflected on the whole scenario I realized that maybe the Proverbs 31 woman is a bit more like Lady Mary Crawley than I previously imagined.
Are you quite sure we shouldn't have chosen the fine linen and purple, Anna?
So while aspiring to be a Proverbs 31 woman is grand, I think as moms we can develop a really warped perspective about what we can expect from ourselves. Can we be honest that the imaginary woman in our heads that has it all together might not be doing it all on her own? Maybe she has it all together because of the staff downstairs. Maybe if I had an entire household staff minding my children, cleaning my house, doing the laundry, and cleaning out my email inbox, I would have WAY more energy to rise early and heap financial and moral blessings upon my family like the Proverbs 31 woman.
Sure I can take on that project! The kids are upstairs with Nanny and the maids are doing all the laundry. No problem! Can I focus on super healthy meals? Why of course, just let Mrs. Patmore know what the most popular super foods are this week so she can plan accordingly. Oh this trim figure? Must be from walking on the estate grounds before coming in and having Anna dress me for dinner. Except none of that is my life.
Apart from my British manorial fantasy, I don't have a household staff. And while I don't plan to wallow in my lack of housekeepers, ladies maids, and nannies, can we talk about lowering our expectations for ourselves a little?
Most moms carry a weight of despair that we're not doing enough. Our homes aren't clean enough and our kids haven't been bathed enough and we don't have the energy we should to dive into homeschool or homework enough. We aren't working out enough or making meals healthy enough or keeping the grocery bill low enough. We aren't volunteering enough or pursuing careers enough or keeping enough clean underwear in the drawer.
When I watch Downton Abbey or Upstairs Downstairs, I remember, hey! They've employed a whole team to keep their household afloat. Over here it's JUST ME. I'm doing the scheduling, cooking, cleaning, and chauffeuring. I'm like Mrs. Hughes, Mrs. Patmore, Anna, Daisy, and Branson all rolled into one pretending that I should be able to do it all and have time to spare for that pilates class so I can have Lady Mary's toned arms. But there are only so many hours in the day!
So if I'm going to keep this family afloat, I need to acknowledge that A: This is hard and B: I can't do it all perfectly with time to volunteer for the Ladies Aid Society or have perfectly coiffed hair. I'm with my kids all day, not just before tea time when Nanny brings them in to be inspected and cuddled before they trot off for their evening constitutional. Things get crazy.
If the household team is just us, can we cut ourselves some slack for not doing everything under the sun? And accept some help if we need it? We can do this, ladies.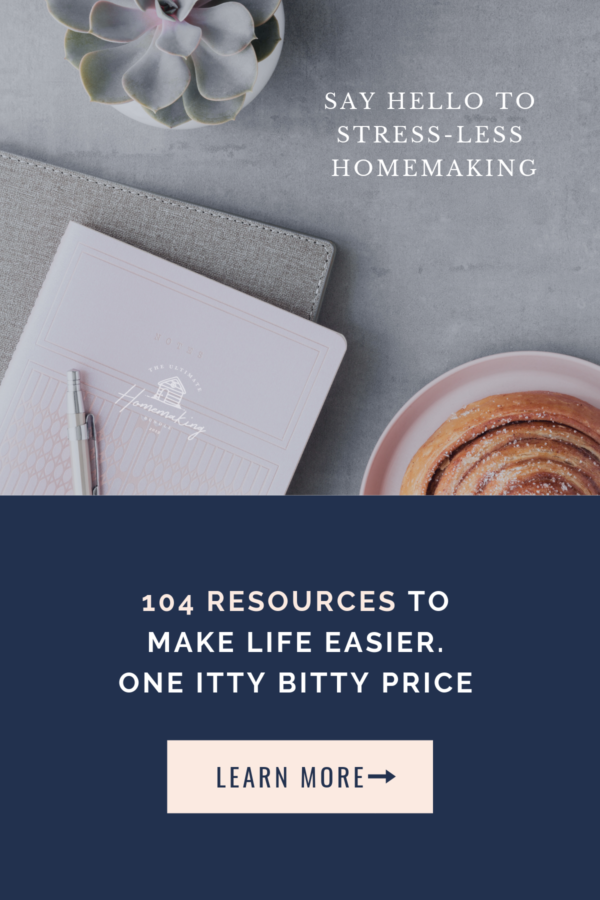 Psst! The Ultimate Homemaking Bundle sale ends TONIGHT, May 6th! It's a fabulous collection of handpicked ebooks, ecourses, printables and more from great writers, bloggers, and online influencers to create a helpful and inspiring collection at an unbeatable price.
When you buy the Ultimate Homemaking Bundle you'll get access to:
27 eBooks (including mine on motherhood)
30 eCourses & videos
25 printables
16 workbooks
3 summits
2 membership sites
Fabulous bonuses (like You Need a Budget membership, free handmade soap and lip balm, free mineral makeup, free children's books, and much more!)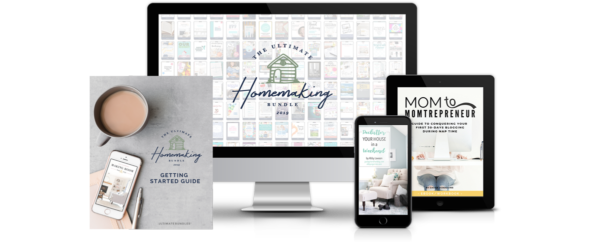 The creators behind these resources are 100+ women who have struggled with the same things as you, but strive (and will teach you) to simplify their homes, declutter & organize, put healthy meals on the table, nurture strong family relationships, and practice good self-care.
Best of all, you can get all 104 resources for just $29.97.
Many of the INDIVIDUAL products included in the bundle cost more than this if bought separately with the total value of the 104 products included being $2,294.37.  So it is truly the steal of the year with contributions from Erin Odom of The Humbled Homemaker, Kendra Adachi of The Lazy Genius and so many more! It's got you covered for decluttering, organizing, meal planning, self-care, and so much more.
But the sale ends TONIGHT at midnight,May 6th! So run, don't walk, to the bundle site to see all the great books and resources that are included to inspire and encourage you in your homemaking.