Each year we get the kids a new pair of shoes for St. Nicholas Day (the ones above are for the girls, my favorite shoes for babies and toddlers!) and then we fill them with treats. It's our big gift-exchange day instead of Christmas (although we do Christmas morning fun with Daniel's family). We start out the day with Mass, then the kids get to open their gifts and try on their new shoes while we make a big breakfast.
Look how little Lucy was last year! And I was just out of the first trimester with Baby Gwen.
Oh, you needed a poor quality close-up of that adorable St. Nicholas dress? You're welcome! Making a big deal out of St. Nick's Day is the way we handle the big Santa question. Daniel grew up doing Santa. I didn't. Neither of us are Santa-haters, but we do really want to keep the focus on Jesus. So, by celebrating the St. Nicholas, our kids get to honor a real saint. And when they ask questions about Santa, we just refer them back to the amazing St. Nicholas and talk about all he teaches us about being brave and compassionate.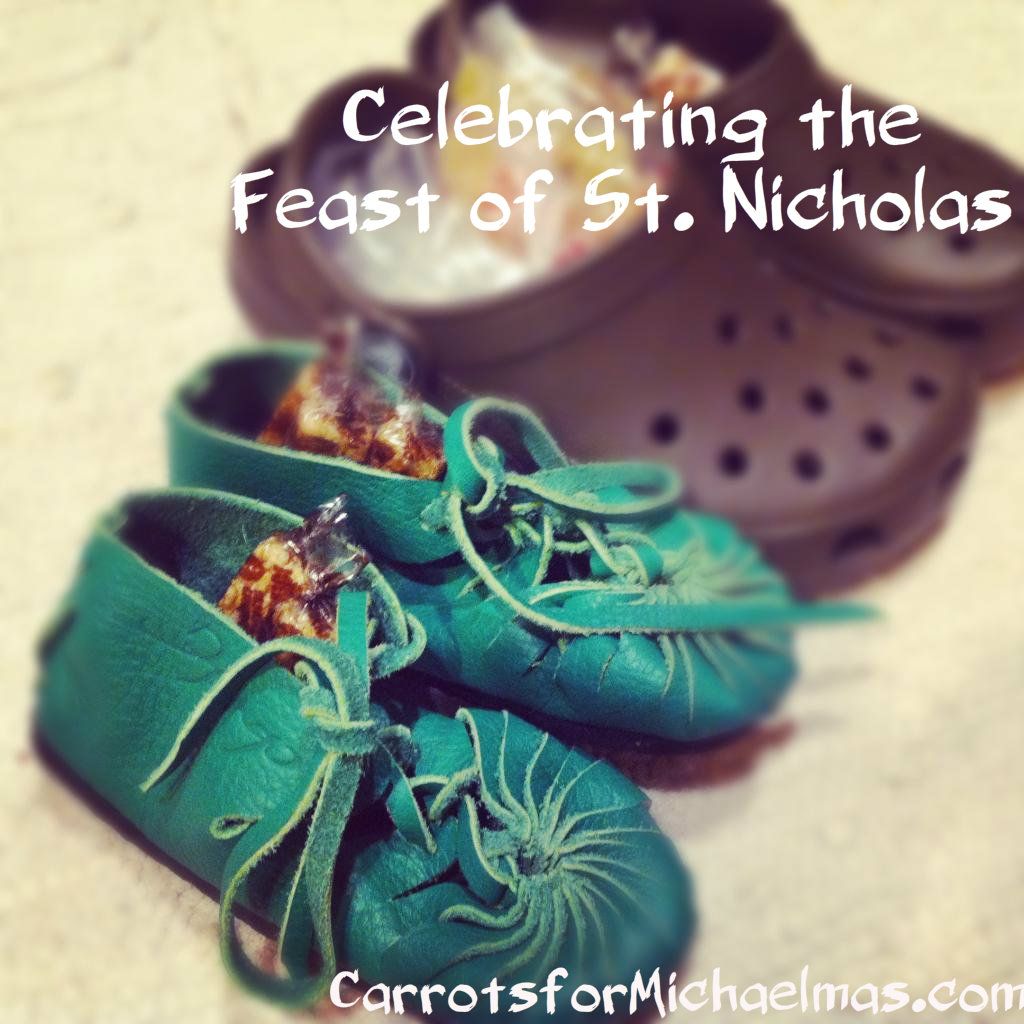 My friend Stephanie at Mama and Baby Love shared a sweet post about how reading about St. Nicholas Day in our new ebook helped her start St. Nicholas Day traditions for her family. And I thought I'd share some snippets about St. Nicholas Day from our book with you!
About the Saint 
Until recently, I didn't know anything about St. Nicholas except that Santa Claus is his strange holiday descendant of sorts. What I found out surprised me  St. Nicholas was nothing like his jolly, rosy-cheeked, red-suited, cookie-snarfing counterpart who is concerned with everyone's "niceness." He was a fighter for the truth—literally.  From examinations of this holy bishop's relics in Bari, Italy, it's clear that he sported a seriously broken nose. It appears to be broken multiple times and some legends even claim he grew up as a street fighter. We know he was kicked out of the Council of Nicea for punching the infamous heretic Arias in the face. Arias taught the heresy that Christ was not fully divine and St. Nicholas couldn't listen to another word.
While I'm not advocating punching heretics in the face (and he did get in big trouble for his violence) I can't help but love St. Nicholas for his fiery passion for the truth.
This saint was also courageous and compassionate. Upon hearing that three innocent men were going to be executed, St. Nicholas ran to the scene and demanded that the executioner put down his sword. The courage and authority of the saint halted the execution and the prisoners were freed. (Or maybe the executioner heard about what happened to Arias.) When St. Nicholas heard that a poor man's three daughters had no money to marry and would likely be forced into prostitution, he anonymously provided them each with a generous dowry. This may be how the tradition of giving gifts to children on St. Nicholas Day got started. 
Simple Gifts 
At our house, we exchange gifts on St. Nicholas Day instead of Christmas Day. It's traditional to fill children's shoes with little presentsso we buy each child a new pair of shoes, fill them with little edible treats, and wrap up any other little gifties we're giving our little ones. Presents at our house are a simple affair, but we don't want them to be the focus of Christmas Day so we enjoy them together on a different day.  In general, our Advent Season is pretty somber: lots of vegetarian meals, simple soups, and quiet evenings. St. Nicholas Day is a bright spot!
St. Nicholas Prayer
Loving God, we thank you for the example of St Nicholas,who fed the hungry, brought hope to the imprisoned, gave comfort to the lost, and taught the truth to all. 
May we strive to imitate him, by putting you first in all we do. Give us the courage, love and strength of St Nicholas, so that, like him, we may serve you through loving our brothers and sisters. Amen.

-Amy Welborn (used with permission)
To learn more about bringing the liturgical year into your home and celebrating saints day, check out our ebook: Feast! Real Food, Reflections, and Simple Living for the Christian Year (and we now have a print version, too!)
Do you celebrate St. Nicholas Day? I would love to hear about your St. Nicholas Day traditions, so please share in the comments!