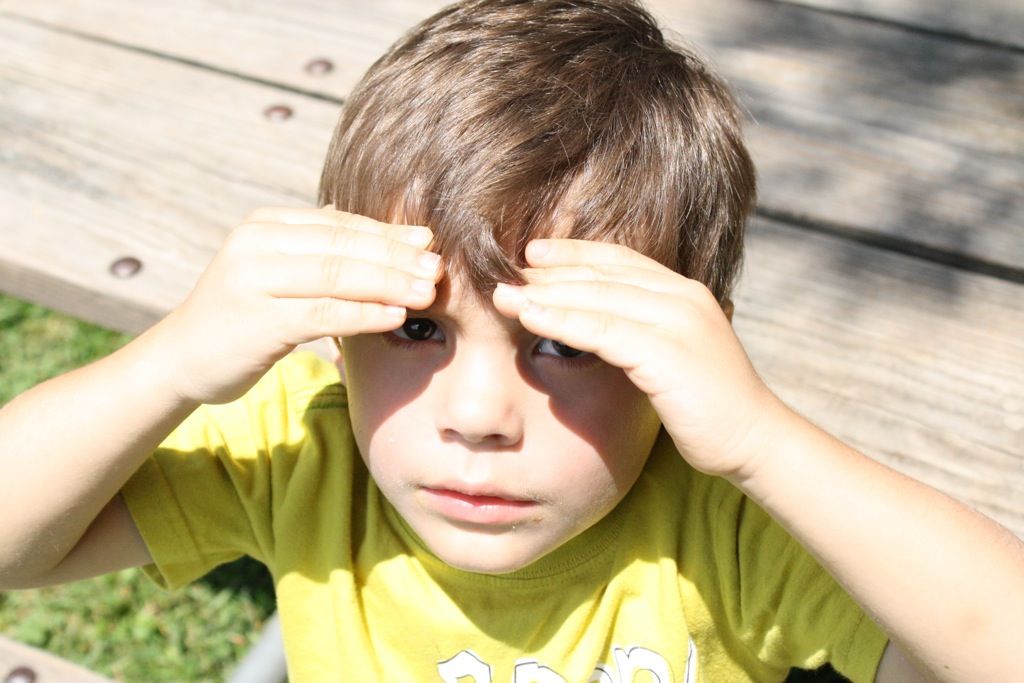 (Our three-year-old's scowl during a time-out)
I really can't decide what's more exhausting: the sleep deprivation of the newborn stage or the behavioral challenges of "the terrible threes." A few weeks ago a lovely reader asked for my thoughts on toddler discipline.  I called my husband over. "Daniel! Check this out! Somebody wants to know our approach to discipline!" We both got a good chuckle out of it. Because we don't have any idea what our approach is. Do we practice "gentle discipline"? Authoritarian discipline? Are we too strict? Are we too permissive? We are constantly adapting our discipline methods and I'll be honest: We don't feel like we know what we're doing.
But as I pondered our discipline style, I realized that at the very least, we have learned a lot from parenting our wild active and high needs delightful toddler with his willful little soul leadership potential. And you know what, hanging out with him is really awesome. He's an amazing, generous, loving kid. And he always sits perfectly still and quiet during Mass. Just kidding on that last one.
Here are just a few of the things we've learned:
Create an environment in which it's easy for your child to behave. If there are objects within reach that the child is not allowed to touch, move them. If you have an altercation with your child every day because he's dangerously climbing all over the rocking chair, just remove it. (I don't want to confess how long it took us, and how many minor head bumps, to figure that one out.)
Be engaged: In my experience, when I'm unengaged Benjamin will inevitably misbehave. Even if I'm only on the phone for 5 minutes, Benjamin will begin acting out in order to get my attention.
Know what your kid can handle. Don't take your 3-year-old into a toy store and be surprised when he starts touching everything and wants to take such-and-such home. It is important for kids to learn to enter and leave a store without a meltdown when you don't purchase anything for them. However, toy stores and gift shops (don't even get me started on how annoyed I am by all the candy featured at toddler height in museum gift shops) are created to make kids want you to buy stuff for them. When a 3-year-old is swept away by good marketing, can ya blame him? Try to avoid situations that will be too much for your toddler or find creative solutions to help them behave to the best of his/her ability. Until a couple of weeks ago, I always had Benjamin ride in the cart at the grocery store because he wouldn't be as tempted to touch everything. He is just now ready to walk beside me without grabbing anything that looks like candy. Expecting him to behave well without being in the cart a few months ago would just have led to frustration for both of us.
Offer some rewards for good behavior. When we are in stores I do not buy Benjamin stuff. He is used to this and does not often ask for me to purchase him things. When he does, I say, "No, buddy." Or "We'll think about it and come back later," etc. The one exception is the grocery store. I allow him to pick out some dried fruit from the bulk section as a treat if he is well-behaved. Yes, it's true, my kids are so deprived that they think dried fruit is a SUPER GREAT TREAT. And yes, I bribe them. I totally bribe them.
Head off the problem before it arises. Don't take your toddler on a taxing errand when they are tired, hungry, or out of sorts. Just don't. Inevitable misery will ensue.
Encourage, encourage, encourage. Some days I feel like all I do is criticize what Benjamin does: Stop touching that! Don't do that! You're not listening! Come over here! Clean that up! Sit still! These are days when I don't feel like I'm parenting well. On a good day I try to make sure that I'm encouraging good behavior far more than I'm commenting on bad behavior. "Wow, you're sitting in your chair with your feet in front! What a big boy! Thank you for sitting so nicely!" to balance out the "Stop climbing all over your chair at the dinner table! You're acting like a barbarian and you're totally gonna fall….again." One of the things Benjamin is really good at is sharing with his baby sister. I try to comment on this all the time. "I saw how Lucy grabbed your toy and I'm so impressed that you cheerfully found another toy for her to play with and helped her start playing with it before getting your toy back. You were so gentle and kind to her! You are so generous! I know it's hard when she takes your things and you dealt with that just the right way."
But what about when all that fails? What about when attempts at preventing a whining, screaming tantrum are unsuccessful or you're faced with a willfully disobedient toddler pushing all your buttons and testing the boundaries just to see what you will do? Honestly, I think a parent's reaction should differ according to what works with an individual child.
We've discovered that Benjamin needs constant reinforcement of the boundaries or else he loses his little three-year-old mind. He's also not sensitive in the least. Just a strict command in a firm tone doesn't do anything to turn his behavior around. We have to practice consistent time-outs or else all Hell breaks loose. We used to spank him occasionally, but don't anymore. And it's not because it traumatized him or anything of the sort, it just wasn't effective. He would look into our eyes with his little stubborn face and say, "I want another spanking." It just ended up making him more defiant. For him, time-out is truly a punishment. He's very social and loooooves to be with us and talk talk talk. Spending 3 minutes by himself in his room is pretty miserable for him and seems to be an effective discipline. But that's not the case for every child. For some kids, time alone in their room is a treat and not a punishment. My mom tells me that sending my older brother to his room didn't phase him at all: "Playing legos by myself in my room? Awesome."
And we can already tell that Lucy is so very different from her older brother and will need a very gentle approach when it comes to discipline. She is already much more sensitive than Benjamin. She went through a phase of banging her head against the back of her high chair. We figured that can't be good for her little head so, one day when she was doing it I said in a strong, firm voice, "Lucy: No, ma'am." I did not yell, I just looked her in the eye and spoke in a "no nonsense" kind of voice. The little gal just burst into tears! Every child is so different.
So, I still don't know exactly what our philosophy behind discipline is. And I often feel like I'm at my wit's end. I don't have all the answers but I'm learning a lot.
What kind of approach do you take to discipline? What have you learned in the process? Any books that you found helpful?
(Please try to be diplomatic in the combox, as you always are, wonderful readers. Parenting styles can be a very touchy subject so, please be respectful of the choices of other families with the understanding that wanting to do what is right for our children is the desire of every parent's heart.)
Psst! Don't miss new Carrots posts! Sign up to get new posts delivered straight to your inbox here .